I care about the health and wellbeing of all my clients
Biography and info written by Sini Kolehmainen
About Marbella Massages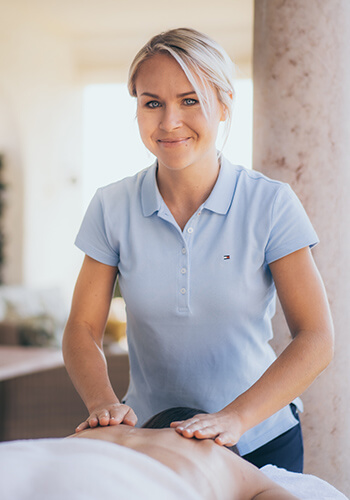 My name is Sini Kolehmainen. I am 36 years old and originally from Finland where I had a successful massage business, but currently I am living on the Costa del Sol and building up a new business in Marbella and surrounding areas.
I am a qualified massage therapist and strictly professional. I work as a 'mobile massage therapist', which means that I will travel to my clients with all my equipment so that you can enjoy the massage in the comfort of your own home or holiday accommodation.
I studied Sports Massage, Deep Tissue Massage and Swedish Massage in the Finnish College of Sports Massage in Helsinki, Finland, and graduated in July 2007. Currently I am studying Reflexology at Natura Class College in Fuengirola, where I also have completed a course in Indian Head Massage 2011. Studying Reflexology and Indian Head Massage has given me a more holistic approach to my work.
I started studying massage as I have always been interested in the human body, mind and soul, health and fitness. I am a former long distance runner and these days I keep fit and active by playing football and practising yoga.
A good massage can benefit your body, mind and soul. Most of us live in a busy environment, and sometimes we forget to take enough time for ourselves. I am a mother of a young child myself, so I know how difficult it is sometimes to find time and space for relaxation. I have personally experienced how much having a regular massage can help to relax and get through the daily challenges! To be able to enjoy life to the full, regular relaxation is very important. Stress, emotional pressures, lack of sleep, muscle tension, headaches, sports injuries, and chronic pains caused by a bad work environment, are very common. A massage can help you with all of these health problems and many more. It can give you the "boost" you need to get through your daily challenges.
Everyone is different, so I make sure that every session of massage is customised for your unique needs. I mix and match different techniques to provide the best possible massage with great results for your body, mind and soul. My passion is to promote health and well-being.
We provide professional mobile massage service offered to clients in Marbella and the surrounding areas including Mijas Costa, Calahonda, Riviera del Sol and Fuengirola. Enjoy the massage in the comfort of your own home or holiday accommodation.